Meet Erin: Owner of Social Style Dance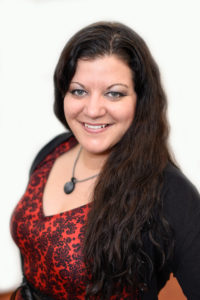 I have been dancing for over 22 years and have been teaching dance classes for adults for more than 20 years. The atmosphere here stays laid back and I really enjoy finding new and interesting ways to explain how to move with the music.  I love seeing the exact point in time my students realize they can learn to dance. That usually happens on their very first lesson! Knowing the confidence and joy that my students get from practicing; and then executing dance routines for fun, bonding, or for their special day is why I started Social Style.
The day I made my decision to own my own dance studio was the day a husband came to me at my first job as a dance instructor. I had been teaching him and his wife for about a year at the time, and I loved working with them. He asked to meet with me privately, and we went into a small office. Immediately he started crying, and I was quite surprised. He was a kind, gentle man, but seeing him cry was the last thing I expected. He said to me, "You saved my marriage. We were on the brink, we didn't think we could ever be in love with each other again. You changed that. Thank you." And then he walked out. I've always been old-fashioned and kind of a hopeless romantic in the way that I believe couples who are married should always try to make each other happy, and find new ways to fall in love again. She asked him to take dance lessons with her, and he said yes. That one yes led to him being so happy to have back the love that they used to share that he cried. That day changed my life. I realized that I wasn't just teaching couples how to dance together. I was teaching them to communicate better, have more fun together and sometimes how to bring back the intimacy in their relationship. Dancing offers so much more than just patterns to move you around the floor. If you want to rekindle feelings you used to have for one another, this is an amazing and very fun way to do it. And I would be honored to help you do that!
Why I started dancing:
When I was in school, I felt extremely awkward at dances. I didn't feel comfortable dancing in front of anyone else, because I didn't know what I was doing. After seeing the movie "Dirty Dancing" I decided I wanted to learn to dance the Mambo, because I thought it would be incredible to dance on stage one day like they did. Driving home from my first lesson, I said, "This is something that I want to do for the rest of my life!" A short time later I realized that dancing really was my passion, and after learning quite a bit more and competing a little, I decided that I not only wanted to dance, but I wanted to share it with other people so they could feel as good about their dancing as I do about mine. A great adult dance instructor is hard to find, as adults learn differently than kids and require a different style. Dance classes for adults are so much fun, and easier than you would think!
My teaching style:
I learned early on that encouragement and an always positive attitude was the teaching approach my students enjoyed the most. Not only does this teaching style create a fun atmosphere, but it allows my couples to be social with each other, and with me.
It is this "Social Style" approach, that brings a smile to your faces while you learn to dance, and those that get to watch your routine will be talking about it for weeks after!
Please join us here, I am so excited to help you!